Small-group video studies have been around for a long time—even since VHS players. For many years, though, video Bible studies had one major drawback: cost. I remember buying Henry Blackaby's Experiencing God video curriculum and spending $200! On top of that investment, I then had to buy workbooks for each participant. Ouch!
In 2002, I was exposed to the 40 Days of Purpose campaign that Saddleback created. As I watched the videos, I had a paradigm-shifting revelation: It's possible for churches to make their own video studies. Plus, it can be more affordable than store-bought curriculum, and it's custom-tailored to your church!
Soon after, I became a pastor at LifeChurch.tv in Edmond, Oklahoma, where I worked with small groups. Two times a year we created our own video Bible study and distributed it to our small-group leaders. Every time we launched a new video study, we had more new leaders step up, more people who joined those groups, and more lives changed through our groups.
As we saw the success of these studies, I was given the go ahead to provide weekly video curriculum for my leaders. LifeChurch is a large, well-resourced church, but at that time, the idea of creating and distributing video curriculum every week seemed like a tall order. Even so, my team and I jumped in and got to work. Over the next year, we created 50 weeks of video curriculum! We made plenty of mistakes, but more importantly, we learned a lot.
Make Your Own Video Studies
Today I'm the Senior Pastor of a much smaller church. We don't have anywhere near the resources LifeChurch has, but I've continued making sure our leaders have custom-made video curriculum. We've learned to make our own quality curriculum very affordably, and you can benefit from what we've discovered.
Step 1: Commit to excellence.
It's relatively easy to make a video Bible study because technology is getting cheaper and better every year. But making great video curriculum is a little more challenging. The first thing you need to decide is that you aren't going to settle for a shaky, low resolution product with bad audio. You need to commit yourself and your team to excellence. So go ahead, make that decision now.
Step 2: Refuse to violate copyright.
Tragically, churches are notorious for violating copyright laws. Let me be clear: violating copyright is stealing. You would not steal money to produce your video curriculum, so do not steal content. Make sure you have the rights to use and duplicate everything in your curriculum: video content, still images, and music. A good rule of thumb is this: if you have any doubts about whether or not you have the rights to use and duplicate something, you probably don't! Your integrity and your church's integrity matter.
A great resource for content to improve your videos without copyright infringement is Videoblocks.com. There are amazing video clips, sound effects, and music that your church can use. There is a small subscription fee, but it's cheaper than paying penalties and fines for copyright infringement.
Step 3: Build a team of videographers and editors.
While having a video producer on staff is nice, it's not necessary. My church doesn't have a staff person dedicated to videos. Rather, we have a team of people made up of staff and volunteers who can edit videos. We have one person who can do most simple video projects well. We have another who is a wizard when it comes to 3D animation and after effects. We have another person who is really artistic and can create videos that connect with the heart. And we have another person who can shoot better footage than the rest of the team put together. Each of these people uses personally owned video equipment and software. Not every person works on every project. Instead, we ask ourselves, Who is the best person for this particular project?
Your church has someone who can edit video. They may have a lot of experience or very little, but they are there. Begin recruiting and building your video production team now by asking around to find out who enjoys this kind of work.
Step 4: Decide the best way to communicate your ideas.
The simplest approach to communicating your subject matter is to have a teacher from your church simply speak to a camera. With cue cards or a good memory, this can be done in just a couple of takes.
I would encourage you, however, to consider other creative ways to communicate your message. Could you incorporate an image or photo that will make the teaching really stick? Is an interview or a testimony an option? What can you add in terms of props or other visuals that can illustrate your topic? Can you communicate your idea with humor? Can actors tell the story best?
Answering these questions before you shoot will help you produce a higher quality and more memorable curriculum.
Step 5: Prepare your equipment.
First, think about your camera. There's no longer any excuse for shooting in standard definition. HD cameras are easy to come by. The HD camera on most smartphones is great! On a related note, unless you have a skilled camera operator, it's probably best to mount your camera on a tripod. Affordable tripod mounts can be found for smartphones for sale from Amazon.
Second, think about your microphone. This is almost more important than the camera. It's incredibly distracting to watch a video—even one with a great picture—if the audio is bad. Most microphones that are built in to video cameras are omnidirectional and they pick up every bit of ambient noise. Our church uses a small lapel microphone that we bought at Radio Shack. This small investment of about $35 makes all the difference in audio quality.
Step 6: Select your cast.
The right teacher for your video should be one of the best communicators on your church staff. Never settle for someone who is simply willing to teach. Instead, seek out the people with the desire and talent to effectively communicate on camera.
You may also add actors or interviewees to your cast. Many churches don't have a lot of acting talent in the congregation. So I suggest developing a relationship with a local college theater professor. Students who aspire to act may jump at the opportunity to practice their art by being in your films. Be prepared to offer some kind of compensation if you go this route.
Interviews are easier than acting and your church is full of people with great stories to tell. Ask people to let you film their story as a video interview. Some people may be nervous about sharing their stories on camera. Assure them by guiding them through the interview and editing out anything that doesn't work. Prepare three or four leading questions for the interview. Then have the interviewee start their answers by saying your question in the form of a statement. For example if you asked a man when he realized he had an addiction to pain killers, he should start his answer by saying, "I realized that I was addicted to pain killers when . . . " Also, set up the camera so that the interviewee is not looking directly at it. As the interviewer you will sit to one side of the camera so the other person can focus on you rather than the camera.
We recently recorded an interview at our church that you can watch as an example. It's shot simply and tastefully, and the guy being interviewed is a very typical person. Let this be proof that you can make a great video with affordable equipment and the people already in your church.
Step 7: Write Your Material
The person doing the teaching has probably written their own material and you won't need to write much for an interview. You will, however, need to provide a script for actors if you're including that element.
Besides writing the actual video content, though, great video Bible studies always include excellent discussion questions, and you'll need to write those. Read an article about writing good questions with the goal of evoking discussion. Then decide how you will deliver the questions. There are basically two options: put the questions on paper, or put them on screen. My favorite is the latter because you can save the printing costs by simply putting the questions on the video.
To create the group discussion slides, we use Powerpoint and then export each slide as an image. Next we drag the images into our video editor. Lastly, we include on-screen elements that make the study easy to use. We always include five components on each discussion question slide:
1. The slide number (i.e. 1 of 10)
2. The suggested amount of time for the slide
3. Specific instructions (i.e. pause to read, pause to discuss, pause to pray)
4. The content (discussion question, Scripture verse, etc.)
5. A progress bar
Here are a few examples from our church's most recent video curriculum: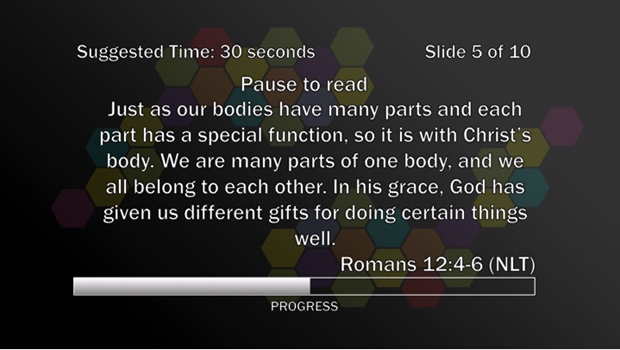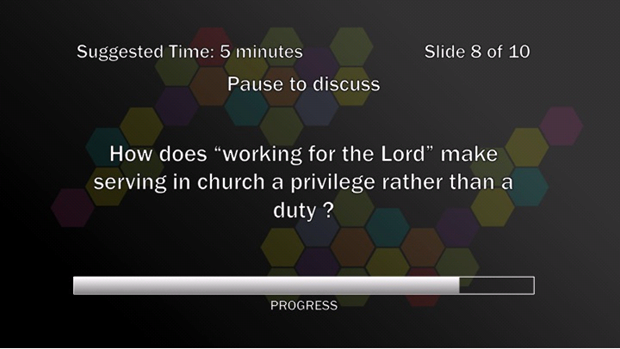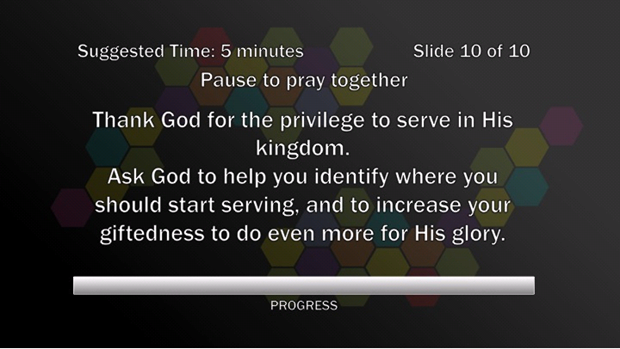 Step 8: Add the finishing touches.
Before you hit the render button, consider putting a short bumper at the beginning of your video with your church's logo or the title of your teaching series. You can make your logo really pop by getting a 3D animated version made. Sounds expensive, doesn't it? Actually, you can have your logo or graphic animated by someone for only $5 at www.fiver.com. We've done this a lot and love the results.
Also, consider including music to add to the emotional effect of your video. Music creates the atmosphere and sets the tone for your video. Music can also mask flaws in your primary audio track.
Step 9: Include add-ons.
Creating your own video study presents you with a great opportunity to tack on extra information that you want your groups and group leaders to receive. Add on some training material teaching group members about good ground rules for discussion. Or add an intro at the beginning challenging groups to come to your church's next local mission event. Don't miss the chance to inject whatever announcement or leadership training you find important into your study.
Step 10: Duplicate your video.
DVDs are becoming less popular thanks to Blu-ray and digital streaming. But DVDs might still be appropriate for your church. If that's the case and you have a relatively small number of groups, you can duplicate all of the DVDs using a single DVD burner. If you have a large number of groups, though, it's worthwhile to invest in a quality, high-speed duplicator or to establish a relationship with a local DVD duplicating agency who will give you a good price.
Step 11: Distribute the video.
Deciding your distribution method is as important as creating the curriculum. Your leaders can to pick up DVDs from the lobby, or you can utilize newer digital distribution methods. Digital distribution is cheap and often free. More and more people every year can access YouTube on their TVs. Countless homes have new technologies hooked up to their televisions like Roku or Apple TV. Creating a Roku channel or an iTunes podcast for video distribution makes it easier than ever for your groups to access your curriculum.
Creating your own video Bible study is a fun and relevant way to help teach and train disciples in your church—and you can do it on a budget and get great results. So what are you waiting for? Lights, camera, action!
—Alan Danielson is the Senior Pastor of New Life Bible Church in Norman, Oklahoma, and a small-group consultant; copyright 2014 by Christianity Today.